Return to work after injury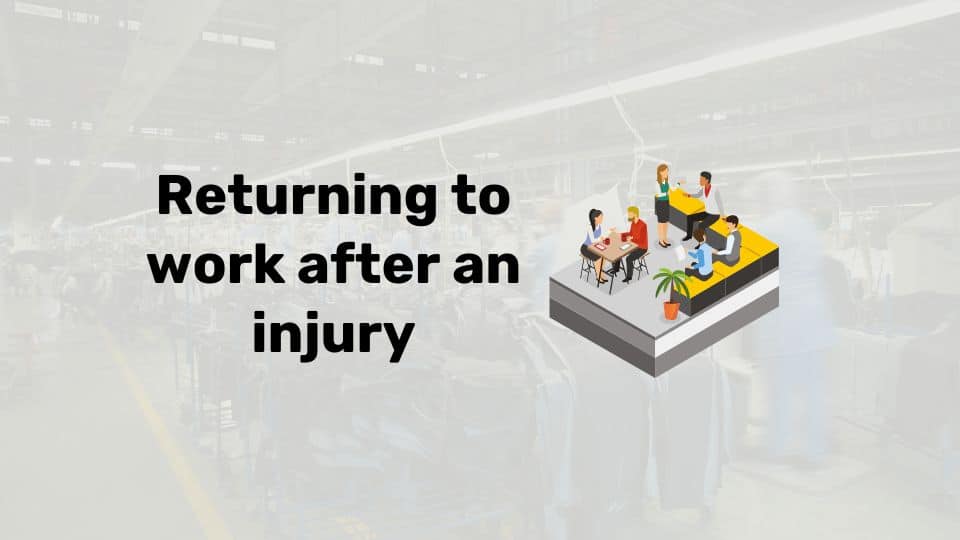 When you have an injury at work that prevents you from performing your job, there are processes in place to help get you back to work once you are able to do so, even if it's not at your full capacity.
There are laws both under the federal employment law (the Fair Work Act) and our Victorian workers compensation laws that cover this, and we will look at each separately.
Returning to work and the Fair Work Act
To cover briefly the Fair Work Act, it requires that an employer not terminate someone's employment due to a "temporary absence or illness".
This gives some basic protection from employment being terminated merely because someone is unable to work for a short period.
There is also legislation in Victoria that requires an employer to make reasonable adjustments for a worker's injury or disability.
What this means differs from workplace to workplace, but certainly minor adjustments that would allow a worker to do their preinjury job should be made, whether there is a WorkCover claim or not.
The larger and better resourced the employer, the more likely adjustments are going to be considered reasonable, compared to smaller business with fewer resources.
Returning to work and Victorian WorkCover laws
Victorian WorkCover laws put a significant onus on the employer (with assistance from their WorkCover insurer) to assist an injured worker in returning to work even if they can't do their pre-injury job to its full extent.
Usually, the starting point for this process is the worker's certificates of capacity issued by their treating health practitioners.
The certificate of capacity sets out what the worker can and can't do both in terms of any physical or psychological restrictions on the duties they can perform as well as the hours per week that they can work.
The certificate of capacity is provided to the employer and their WorkCover insurer. The employer has an obligation under the WorkCover legislation to provide reasonable return-to-work options to the worker.
The role offered must take into account the restrictions on the workers certificates of capacity.
In many cases, there is no issue with the employer providing the suitable work
If that's the case, then the worker can make a return-to-work and perform the modified duties.
In these matters, they continue to receive weekly payments to make up some of the shortfall between their current and pre-injury earnings.
There are unfortunately many times where the employer can't or wont provide suitable work
This could be because the employer does not want to accommodate injured workers at their business.
This can be due to financial reasons or philosophical reasons the employer holds.
There can often be disputes regarding whether there is suitable work for a worker to perform with their employer.
The Return-to-Work Inspectorate (part of WorkSafe) can look into matters where it is believed there is a breach of the employer's duty to provide suitable duties to the worker.
In general however, the employer does have the right to decide who will and will not work for them, and what duties they will provide to their employees outside of their regular duties.
They can usually fall back on reasons such as "operational requirements" to refuse to provide suitable work.
It may be that there is a genuine inability to provide suitable duties due to the nature of the work.
It may be that the only duties that could be provided would be very trivial or menial and as such are not appropriate to provide.
This can particularly be the case in smaller workplaces where there is limited scope to find alternative duties for workers to perform.
If the employer will not provide suitable duties, then the employee will continue to receive WorkCover weekly payments at their usual rate.
A worker's employment is not terminated simply due to a lack of suitable duties being provided.
Rehabilitation provider
If a return-to-work on suitable duties is possible, but there are some difficulties in terms of identifying the duties or what is safe for the worker to do, often a rehabilitation provider will be engaged to assist with the return-to-work process.
The rehabilitation provider will consult with the worker, employer and the workers treating health practitioners to arrange a plan for return to work.
If the worker clearly will never be able to return to even modified work with the employer, then obviously a potential return-to-work would need to occur with a different employer. In these circumstances, a rehabilitation provider is usually engaged to look at alternative employment options for the worker.
This usually involves looking for lighter jobs where if the worker has physical restrictions, they will be more easily accommodated.
It is important to note that the rehabilitation provider will not apply for jobs on a worker's behalf, or get them work with an employer.
We have seen circumstances where a worker remains employed by the injury employer, and has a capacity for suitable work, but the employer is not able to provide any suitable duties and the rehabilitation provider has sought to make the worker seek employment elsewhere.
The WorkCover legislation does not set out what is to happen in these circumstances.
In the end, a case-by-case approach is required to assess what should be done in these situations.
Certainly, if a worker had a clause in their contract that prohibited them working for any other employer while employed, then it would be inappropriate and unfair to force the worker to try and obtain work elsewhere.
A return-to-work plan can have graduated steps with an aim to return the injured worker to pre-injury duties.
This might be for example, the first 2 week of the plan being for 15 hours a week, then the next 2 weeks at 30 hours. If that works for the injured worker, they then return to full time hours after the four week graduated period.
Sometimes a return-to-workplan will be explored with the employer and worker, but agreed that it wouldn't be the right fit at the time. A potential return-to-work can be revisited at a later time.
Conclusion
Under Victorian workers compensation laws, employers must try and provide the injured worker with a return-to-work plan, even if they are not able to perform their pre-injury job.
The starting point is a certificate of capacity to be obtained from a treating doctor or health practitioner that outlines what duties the worker can do, and how many hours per week.
In some cases, employers may not be able or willing to provide suitable work.
In these instances, employees should, generally speaking, continue to receive weekly payments at their usual rate even if they have a work capacity.
If difficulties arise with identifying what duties are safe for an injured worker then rehabilitation providers may be engaged by the WorkCover insurer as part of returning them back into full time hours over a graduated period.