How to get a copy of an IME report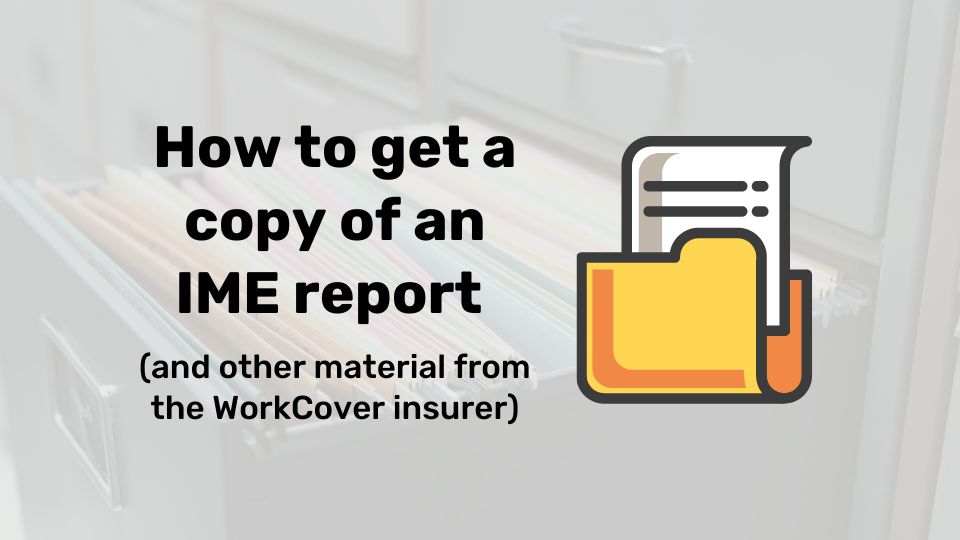 There are mechanisms in place to enable a person with a WorkCover claim to obtain IME reports and other material from WorkCover.
An IME is an "independent medical examiner", which is a term that the Victorian WorkCover Authority (" WorkCover") uses to describe the doctors that a WorkCover insurer will send you to when assess your entitlements under the scheme.
An IME can be used to assess:
The initial liability for a claim, your entitlement to medical expenses in general, or a specific expense such as the need for spinal surgery, weekly payments (usually in the context of a worker coming up to having received 130 weeks of weekly payments)
For an impairment lump sum claim
For a common law claim
Am I entitled to a copy of a report from an IME?
Usually, yes you are. There are very limited circumstances where you would not be entitled to a copy of an IME report.
The usual reason given for refusing to release an IME report is if the report would pose a danger to the mental health of the person requesting it.
Normally this is in the context of a worker with a psychological injury, where reading the report would cause further psychological harm to them.
In all other instances you have a general entitlement to access a copy of an IME report.
How you can go about getting a copy of a report differs depending upon what stage the matter is at
Impairment benefit lump sum claim
If you have seen an IME for an impairment benefit lump sum claim, then a copy of the report will be provided to you or your legal representatives (if you are legally represented) once it is received by the insurer and they have prepared your notice of entitlement.
Serious injury application or common law claim
If the IME is in relation to a serious injury application or common law claim, then you are entitled to a copy of the report.
If you are legally represented the report will be provided to your lawyers.
If you are self-represented, a copy of the report will be provided to you by the WorkCover lawyers once they have received it.
Other Workover benefits
For an IME report relating to your entitlement to WorkCover benefits, whether it be the initial liability of the insurer, an entitlement to medical and like expenses, or an entitlement to weekly payments, then the process is slightly more complicated.
You generally will not be provided with a copy of those reports unless a request is made to your insurer.
If you are legally represented then your lawyer will from time to time request all information held by the insurer on your claim, including all IME reports.
If you or your lawyer needs a recent IME report for a particular purpose, then your lawyer can request this from the insurer on your behalf.
If you are not legally represented and would like a copy of your file or any particular report or other document, you can request this from the insurer.
We recommend that you download and complete the Access to WorkSafe Claim Information Request form (this is the official form from the WorkCover website), complete it and lodge it with the insurer.
It looks like this (below):
In section 3 of the form, list any claim number/s that you want to request material in relation to (see below).
You can list more than one claim number. 
In section 4 of the form, you need to indicate what material you want the WorkCover insurer to provide (see below):
It is usually a good idea to not send it directly to your claims manager, as they often do not handle these information requests.
You should either contact your insurer directly for the appropriate email address to send it to, or you can contact us and we will be able to provide it to you.
Your request could be in relation to an IME that you have recently seen, all IME reports or all documents on your claim.
Your entitlement to this information is contained in section 9 of the Act.
You can read the section here.
The insurer may on occasion, if you request a copy of an IME report, tell you that they will provide a copy to your treating doctor to go through with you.
This may occur in matters where the insurer doesn't consider that there is a high probability of harm to you should you receive the report, but has made a decision that it may cause harm and it would be safer for the report to be reviewed in the presence of a medical practitioner.
If you have any questions regarding the process of accessing an IME report, or would like assistance in doing so, we are able to assist.
The process of making a section 9 application to the insurer is free, and you will not have to pay the insurer or any other party to make a request for information to them, not pay any fees.
What other material can I obtain from the WorkCover insurer?
Looking more broadly at what you can request from the insurer, they will usually provide if you request:
all documents
certificates of capacity
the claim forms
IME reports
a list of payments made to you and medical practitioners etc,
some elements of any investigation report prepared when your claim was lodged and;
any other miscellaneous material.
You do not need to make an application under the Freedom of Information Act 1982 to obtain documents from the WorkCover insurer about your claim and personal information.