Who pays for workers compensation (Vic)?
WorkSafe and their authorised insurance companies pay for all benefits associated with workers compensation matters in Victoria.
This is because every Victorian employer is required to take out a WorkCover workers compensation insurance policy.
This means that if a person is injured in connection with their employment in Victoria, they are covered by the WorkCover scheme.
When you suffer an injury at work, in order to claim benefits you must lodge and have accepted a WorkCover claim.
Once this WorkCover claim has been accepted, costs will be paid for by WorkSafe and one of their authorised insurance companies.
Currently, in Victoria, the relevant insurance companies are; Allianz, Gallagher Bassett, EML, Xchanging.
CGU workers compensation was an insurer responsible for paying benefits under the Victorian WorkCover scheme, but from July 2021  they have ceased.
Also, in addition to these insurance companies, there are some businesses in the state of Victoria that manage their own insurance claims.
These are called 'self insurers'.
For example, Coles is one.
If you were an employee of Coles and you suffered injury on the job, any WorkCover benefits would be paid for by their own insurance arm.
Does my employer need to pay anything?
Once you have lodged and have had accepted a WorkCover claim, your employer is required to pay benefits for the first 10 working days that you are unable to work, as well as contribute an amount towards your medical expenses.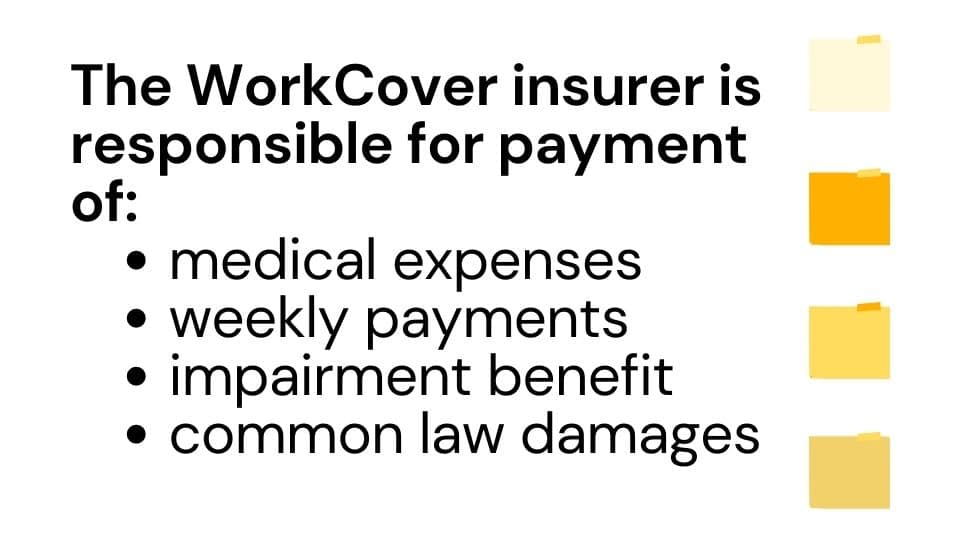 Will my employer need to pay for lump sum compensation?
Your employer will not be required to pay anything towards any lump sum compensation that is to be paid to you.
There are two lump sum claims under the WorkCover banner.
The first is an impairment benefit claim form and the second is a common law claim.
Your employer will not need to contribute anything towards either.
What if my employer was negligent and I sue them?
No, your employer will not be required to pay you any lump sum compensation, even if you elect to sue and you are successful in showing that there was negligence on their behalf.
100% of the compensation payable to you will be paid for by the insurance company. This includes any legal costs that need to be paid to lawyers.
Does a compensation matter impact my employer in any other way?
In some cases once an injured person lodges a workers compensation claim, the yearly premium that an employer is required to pay may be impacted.
There are a number of factors that are taken into account when determining the premium that a business is to pay.
What if my employer does not have workers compensation insurance?
You are still entitled to make a workers compensation claim and you are able to obtain the same benefits as a person whose employer does have workers compensation insurance.